Formats
Private Sessions
In-House Workshop
In-house trainings are our core business. Our workshops are developed according to your specific needs, designed to impact your business and are delivered at your offices by highly qualified trainers.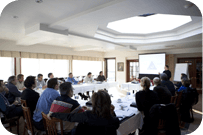 Lunch & Learn
A simple, informal, cost-effective and powerful way to provide rich nuggets of best-practices, in a relaxed environment.
Conférences
Allows the initiation of a large group to a common learning and aims at enriching and enhancing the skills of the participants behind a specific subject.